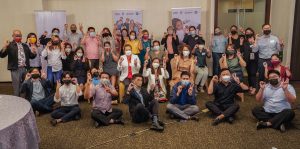 QUEZON CITY, June 29, 2021—More than 30 members of the Quezon City Youth Development Alliance (YDA) convened to craft a plan specifically catering to the out-of-school youth of Quezon City. The plan will harmonize targets, programs, and services from different offices and sectors ultimately aiming to transition thousands of out-of-school youth in the city to higher education, employment, or entrepreneurship.
Based on 2016 data of the Philippine Statistics Authority, there are about 600,000 youth aged 15-24 in Quezon City, of which, an estimated 7-10% or 45,000-60,000 are OSYs. Numbers are estimated to have increased due to the COVID-19 crisis.
The QC YDA, led by the Quezon City government, has a diverse composition with members from the academe, business sector, key government agencies, civil society, and youth groups. The Alliance was established in partnership with the U.S.-based Education Development Center and with support from the United States Agency for International Development (USAID) through a program dubbed 'Opportunity 2.0.'
"I am a strong believer in a comprehensive approach to Quezon City OSY development," said City Councilor Irene Belmonte in a message to Alliance members. "The Opportunity 2.0 Program will make a lasting solution to improved education and must be accompanied by policy, institutional, and human resource improvements. So, we must focus, join and cooperate for the success of this program. I know we can do it."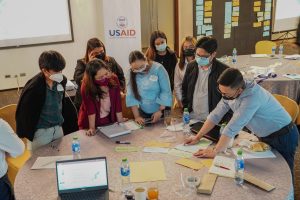 Opportunity 2.0 introduced "Positive Youth Development" to local stakeholders in QC in an earlier session back in May. Informed by this approach, the Alliance members are able to craft development plans that are more OSY-inclusive. A local labor market assessment was also done through the program, which identified top industries in QC with the most opportunities to offer the youth.  Further profiling is also underway to gather up-to-date data on OSY in Quezon City.
"The median age among the more than three million residents in QC is 23 years old. Therefore, there is a huge youth group that will benefit from Opportunity 2.0," added Sara Deloraya-Mateo, President of the Quezon City Chamber of Commerce and Industry who also serves as the voice of the business sector in the Alliance. "We ardently hope that we can be long-term partners in this program… to improve education, employment and livelihood outcomes for vulnerable out-of-school youth and equip them for immediate jobs and long-term gainful employment."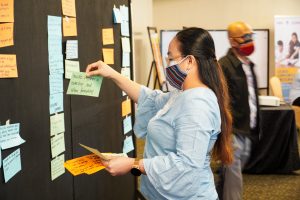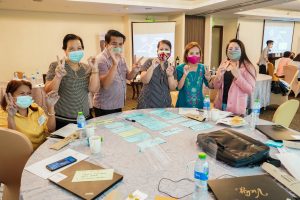 YDA members both from the public and private sectors will be integrating these data and information in the Strategic and Annual Plan, matching each YDA member's capabilities and resources through a series of sessions during the two-day planning activity.
Attendees of the planning workshop included representatives from the Quezon City Government Department of Education Alternative Learning System, Philippine Chamber of Commerce and Industry, Landbank of the Philippines, University of the Philippines, Miriam College, Quezon City University, non-government organizations (NGOs), youth, and other stakeholders.#