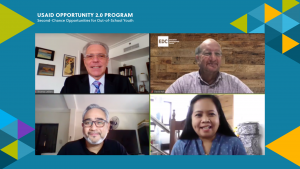 The U.S. government, through the United States Agency for International Development (USAID) handed over in an online ceremony to the Department of Education new modules on entrepreneurship and work-readiness to be integrated into the Alternative Learning System curricula.
Today also marked its completion of training 371 teachers, coordinators, and education specialists on the said modules entitled 'Be Your Own Boss (BYOB)' and 'Work-Based Learning (WBL)' which aim to add entrepreneurship and employment advantages to ALS learners.
The National Training of Trainers on the Content and Delivery of BYOB and WBL was done in 12 pilot sites namely, the cities of Angeles, Legazpi, Quezon, Valenzuela, Cebu, Isabela, Tagbilaran, Zamboanga, Cagayan de Oro, Davao, General Santos, and Cotabato.
Be Your Own Boss and Work-Based Learning modules are part of a world-renowned and tested curriculum pioneered by the US-based non-profit, Education Development Center. This new content was introduced to DepEd ALS through USAID's Opportunity 2.0 Program, which seeks to help Filipino out-of-school youth transition to further education, employment, or entrepreneurship.
Through collaborating with DepEd ALS, USAID Opportunity 2.0 aims for this new content to build youth's core skills in business planning, start-up, and management. New modules will also develop the youth's work readiness skills by gradually exposing and guiding the youth in their transition to the dynamic world of work.
USAID and DepEd ALS have been working together to strengthen second chance education systems in the country especially amid the COVID-19 crisis, which unfortunately hindered thousands of ALS learners and completers from taking their next steps toward their goals.
"Pivoting the national education system to distance or blended learning is a daunting task. But, with the Department of Education at the helm, together, we continue to strengthen the Philippine Alternative Learning System," said Dr. Thomas LeBlanc, Director of the Education Office at USAID Philippines. "The US government, through USAID, is here to support DepEd in reinvigorating education programs. We are working hard so that vulnerable out-of-school youth who have stopped schooling are also given the opportunity and tools to adapt, grow, and have a better tomorrow."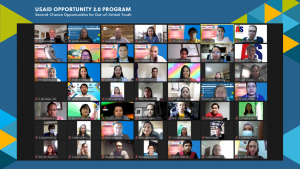 DepEd ALS, through USAID Opportunity 2.0, has developed and distributed thousands of ALS life skills modules and learning kits reaching over 16,000 out-of-school youth across the country. Aside from providing training to ALS teachers, Opportunity 2.0 is also helping develop interactive, radio-based episodes of the ALS life skills curriculum. New distance learning materials such as desktop units and printers were also handed over this year to eSkwela Learning Centers in five cities across the Philippines, providing online access for vulnerable youth as they seek education and training.
ALS teachers who completed the new training with USAID will also be provided instructional materials such as facilitator's guide and learner's handbook, as well as coaching and mentoring to help them introduce the new content in their respective communities in the coming months.
Opportunity 2.0 is implemented by U.S.-based EDC with DepEd, TESDA, Accenture, Philippine Business for Education, Catholic Relief Services, Voluntary Services Overseas, and SEAMEO INNOTECH. USAID's assistance will benefit 180,000 youth in more than 12 cities across the Philippines.#