The United States Agency for International Development places great importance in fostering multi-sectoral collaboration to spur upskilled out-of-school youth's way to success and empower them to be drivers of the Philippine economy. This was the center of the discussion during the recently held Opportunity 2.0 Private Sector Summit, which brought together nearly 200 partners from business, government, and civil society organizations across 15 partner cities. The event was mounted by O2 consortium partner Philippine Business for Education in partnership with Education Development Center.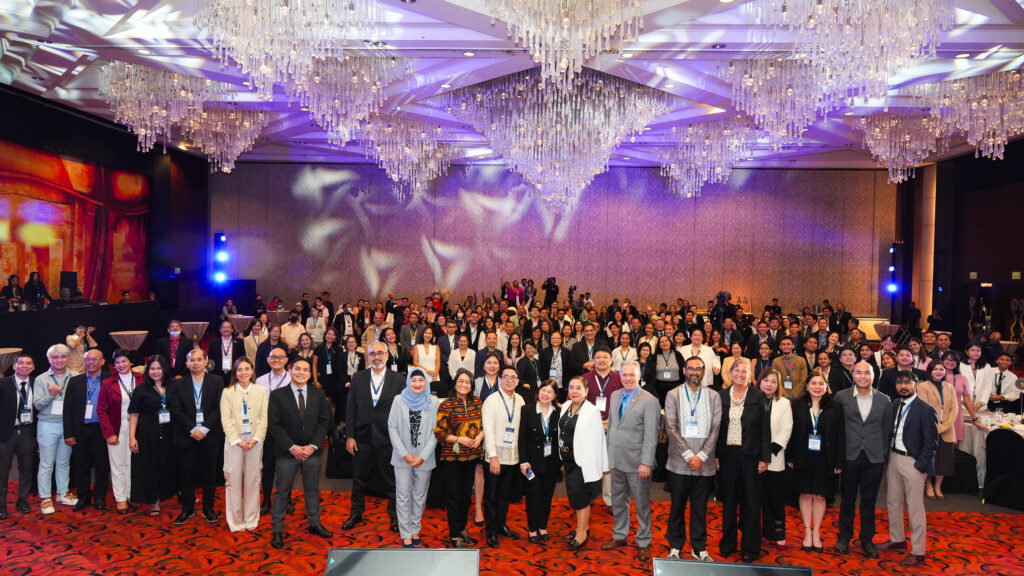 The USAID Opportunity 2.0 Private Sector Summit was held last September 6 with a theme, "Forging the Future: Collaborating Beyond Impact with Gen Z at Work." Through panel discussions and workshop sessions, the summit tackled ways to strengthen collaborative programs to enable vulnerable youth to achieve success in employment, entrepreneurship, or further education.
The summit also emphasized the importance of advancing upskilling opportunities and other means of support for vulnerable young people.  Isabela 5th District Rep. Faustino Michael Carlos Dy III, chairperson of the House Committee on Youth and Sports Development, recommended institutionalizing USAID programs that will benefit out-of-school youth.
The House Committee on Youth and Sports Development has crafted the substitute bill for the Magna Carta of the Out-of-School Youth, which has already been routed for appropriation in the lower House. A Senate version of the measure is also being pushed, led by Sen. Juan Edgardo Angara, chairperson of the Senate Committee on Youth.
"The Magna Carta [of Out-of-School Youth] envisions greater cooperation between various government agencies that have the power to pursue programs which are favorable to our youth," Angara said. "USAID, PBEd and the Education Development Center have all been very helpful in lending their expertise, their experience in programs which have been proven to be productive in terms of results for our youth."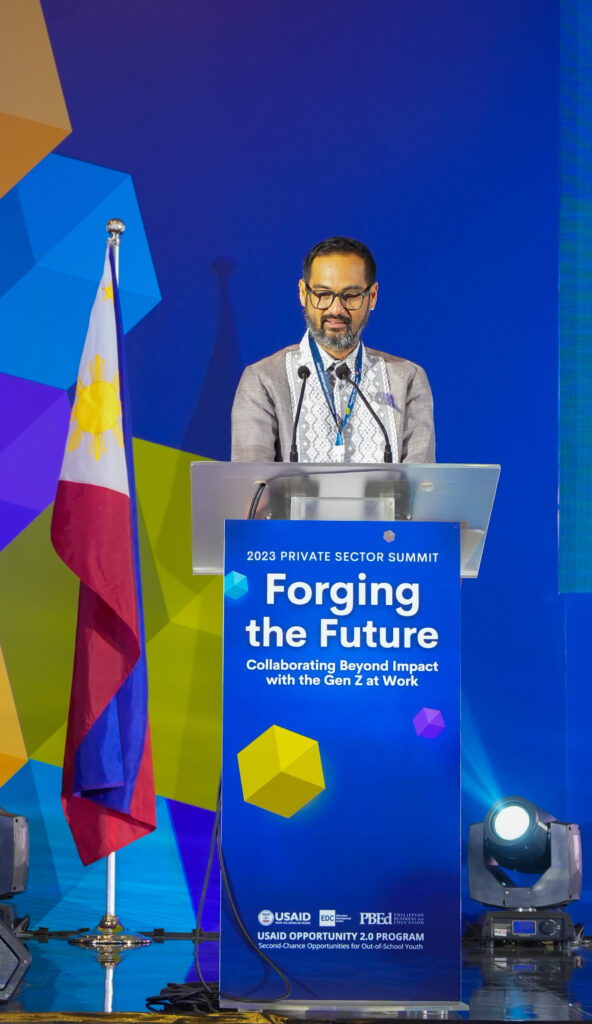 The summit also became an avenue for committed partners to exchange inspiring stories, including the innovative methods in their hiring and selection process after collaborating with the Opportunity 2.0 program. O2 partner Edotco Philippines shared that the youth they onboarded for work immersion showed exemplary performance in delivering the team's expected results. He added that promoting innovation through inclusion of upskilled youth creates better chances of tapping an often overlooked pool of talent that could generate fresh ideas, especially in the telecommunications industry.
"We thrive in a very challenging, technological-driven environment. There are a lot of day-to-day demands which we had to meet," said Edotco Philippines Director for Sales and Marketing Erwin Banaag.  "But having partnered with Opportunity 2.0, it allowed us to reevaluate how we select and onboard candidates not just by mere identification of their background but also of the attitude that they display. Giving equal opportunity to upskilled youth–that is something we share with O2. We want to foster equity, inclusion, and diversity."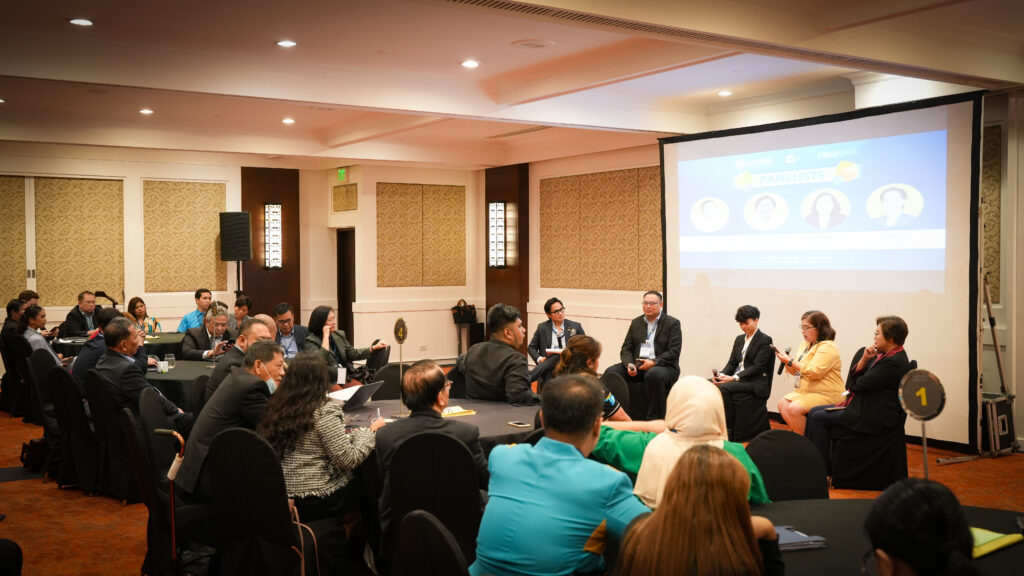 During the breakout sessions, different groups actively raised best practices and other notable policy recommendations that can be applied to their respective sites. These include the institutionalization of barangay employment service offices under the DOLE-Public Employment Service Office to monitor OSYs' transition to employment and the crafting of city ordinances for inclusion of a specific percentage of the local workforce comprising upskilled out-of-school youth, among others.
Opportunity 2.0 youth and Jollibee Tibanga Service Crew Kyle Rebusto, who was trained and hired by Alrose Group of Companies in Iligan, stressed the importance of employers being actively engaged in strengthening foundations so that upskilled youth like him can succeed at work and even give back to society.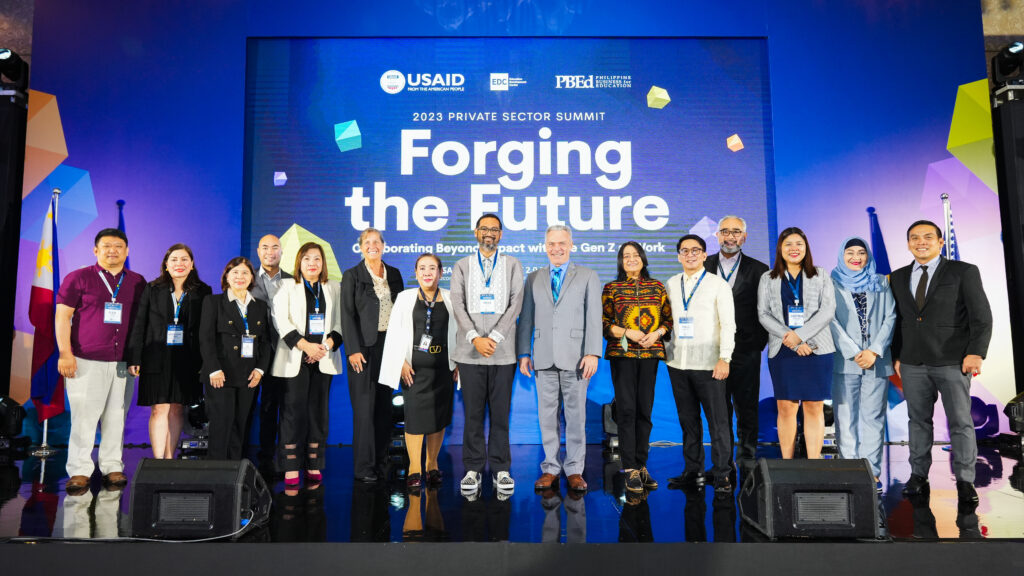 "Hindi pwedeng OSY lang ako buong buhay. Ipagpapatuloy ko rin 'yung pangarap kong maging isang guro para makatulong din sa komunidad," Rebusto added. [I did not want  to be an out-of-school youth my whole life. I will also continue to reach for my dream of becoming a teacher so I can give back to my community.]
Since its launch in 2020, Opportunity 2.0 has engaged at least 1,346 private sector partners nationwide, comprising 18 business groups and organizations, 217 large companies, and 950 micro-small and medium enterprises. To date, the program has also reached 37,504 youth and helped set pathways for them to gain successful employment and opportunities to start their businesses.#